<![if !vml]>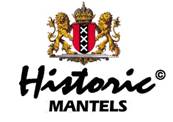 <![endif]>
HISTORIC MANTELS LIMITED
Frequently Asked Questions:
What parts do I get with my mantel?
You received all the parts you require to completely install your mantel—all you require is a wood piece ( 2X4 ), screws and PL premium adhesive.
The pieces you will receive with each series:
Chateau series- 2 legs, 1 mantel header, 3 filler panels, and the hearth.
President series- 2 legs, 1 mantel header, 3 filler panels, and the hearth.
Symphony series- 2 legs, 1 mantel header, 3 filler panels
Designer series- 2 legs, 1 mantel header, 3 filler panels
Builder series- 2 sides, 1 header
I opened the box and I see some light and dark parts on my mantle. What is this?
The mantel is made of natural aggregates and hand poured. The natural uneven finish of the mixture is what makes the mantel look like natural distressed solid stone. You can, if you wish, VERY lightly sand the spot to blend it a bit. We suggest you re-apply some Thompson's water based sealer (VERY LIGHTLY) to re-seal and protect the surface. Test a discarded filler panel piece or back of mantel to get your desired effect.
What colors and textures are Historic Mantels available in?
Our mantels are all ivory sand color. It is the color of beach sand with a tint of beige. The mantel has a distressed finish with many holes. The holes are random throughout the mantel and vary with each mantel.
What happens if the mantel is scratched or chipped?
Our cast stone mantels are very resistant to physical damage. Nevertheless, careless installation or other unexpected events can happen. In such cases, use the 80-grit sandpaper to evenly smooth the surface around the scratch or chip to restore the architectural lines of the mantel and make the scratches disappear. For larger gouges, use the grout bag supplied with every mantel, to fill in any indentation; once the grout dries, it will blend in with the rest of the surrounding surface.
Why do I need filler panels?
Filler panels are used to cover the area between the firebox opening and the surround when the desired mantel is larger than the firebox.
Can I cut the filler panels on site?
We include 3 filler panels with our mantels. The filler panels can be cut with an angle grinder or hand saw.
Can I use the EXTRA filler panel I order to tile my wall?
NO our extra filler panels are meant to be used ONLY when your firebox is raised from the floor. Our filler panels are too heavy and cannot be used for any other purpose.
How do I install my mantel?
Our mantels arrive in separate pieces with detailed pictorial instructions.
Our mantels can be installed with minimal effort by an average handy person but remember that the mantels weigh up to 600 lbs in total so more than one person is needed to install the mantel.
Your retailer's installation department can also perform the installation or recommend an installer.
Can I install my mantel outside?
NO. Historic Mantels are for indoor use only.
Are their any clearance requirements for open gas or wood burning fireplaces?
Our mantels are certified as a non-combustible, and will not burn. Our mantels can be used around any open gas or wood burning fireplaces.
Do your mantels go around real wood burning fireplaces?
Yes, they go around gas, electric and wood burning fireplaces.
Do your mantels go around electric fireplaces?
Yes, your electric fireplace unit must NOT extend past the mantel leg. Electric fireplace should be flush with the wall for the most impressive result.
I have a wooden mantel, could it be removed and replaced?
Yes, you can replace any type of façade: wooden, marble or brick.
Can I use other materials to fill in the opening around my fireplace to give it a clean face look?
Yes, you may choose any commonly used materials such as granite, marble, travertine, slate, ceramic tiles etc.
How do I properly fill the joint lines in the mantel?
We provide extra compound that you mix with colored water to fill the joint lines. Use a small trowel or your finger and insert as smoothly as possible. Very fine 80 grit sand paper can be used to touch up any overflow.
Do you make custom size mantels?
No, but we offer a wide variety of styles and sizes that should accommodate any firebox size.
What should I use to clean and maintain my Historic mantel?
Our mantels are factory sealed. No regular maintenance is required. Dust, vacuum, or use a damp cloth to clean our mantels. For smearing that cannot be removed by a damp cloth, use 80-grit sandpaper and gently sand away the stain. Our mantel is not a veneer, so the area that has been sanded will not look any different than the rest of the surrounding surface area.
Can I paint my Historic mantel?
Yes, you may paint our mantel, but only with non-combustible stove paints which are oil based. Any other paint will start to peel when exposed to heat.
Can I put a Historic Mantel on a 2nd or 3rd floor without reinforcing the floor?
Yes, our heaviest mantel weighs 600 lbs.
If a mantel leg or header breaks, what do we do?
If the mantel arrives broken, please ship back broken piece and we will replace it.
If I want to see the actual mantel before I purchase, how do I do that?
Historic Mantels would be happy to show you the mantels in our showroom or send you a stone sample. Please email us at: sales@historicmantels.com to arrange a viewing time.
What kind of warranty is offered on Historic Mantels Limited Products?
We provide a limited 1 year non-transferable warranty on all of our Cast Stone Mantels.
Revised JAN-2016